Friday, 22nd November 2019 12:30 - by Reflect & Prepare
Macro Thoughts
The week has been littered with fresh concerns that the US actions to support the protesters in Hong Kong will hamper, and perhaps scupper the Phase One deal which the US and China are trying to agree on. Even before this latest obstacle hit proceedings, the standoff between the 2 major superpowers rested on the basis that China is looking for tariff rollbacks before it can agree a deal, while the US wants a deal before it commits to providing these concessions. Without this being resolved, the latest reports that the House of Representatives are set to approve a bill to provide support to the protesters does little to smooth relations! President Trump is also believed to be in favour of this bill, and despite warnings from China, the US seems intent on pursuing its foreign policy directive.
None of this bodes well for a deal this side of the new year, yet stock markets in the US continue to believe that all will resolve itself in the end. Time however is running out, and as we start to think about 2020, we can only assume that politics will take a stronger role in market sentiment as the Donald Trump will be readying himself for a possible second term in office. In the background, the US economy is coming off the boil as reflected in the data, though as per the FOMC minutes midweek, the prospect of further rate cuts look slim given the dissenters will argue that enough accommodation has been offered up. Mr Trump would disagree!
It is hard to look past the general elections due to be held next month. All manner of electoral promises are being offered to the public as the major parties go to battle, with the Labour party led by Jeremy Corbyn vowing to transform the UK by renationalising key industries, as well as ending tuition fees. All well and good, but this will require increased finances and once again, the Labour manifesto will be debated on its economic impact as well as the public finances - which are currently in relatively good health.
The Tories will argue that the country is economically in a better place, and that the government will continue to bolster prosperity for all. Boris Johnson promised a rise in the national insurance threshold this week, but exaggerated the overall saving to householders. Despite this, the Tories have pledged more money to social care as well as easing the housing problems by delivering a million homes over the next 5 years. The polls show the Tories remain in the lead over Labour by some 10-12 points, though we know how reliable polls can be!
Movers and Losers
Boohoo: The share price has taken out all-time highs and looks to be heading toward the psychological 300p level. Moving into the Christmas period, it seems that traders and investors are looking into the fashion outlet. Although on the weekly chart volume looks like its thinning out, on the daily chart all the wave breaks higher happen on good volume which is important to confirm the trend continuation.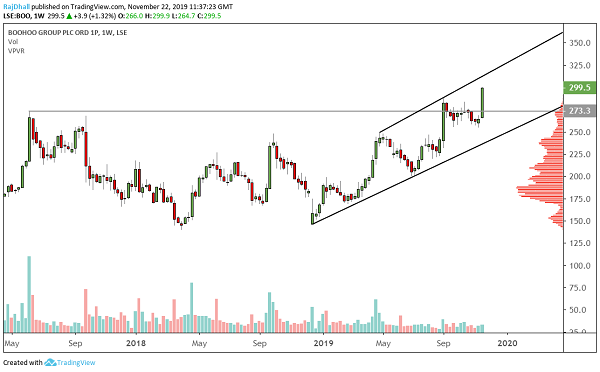 Fevertree: Although the performance was behind expectations in the UK, the US expansion has stepped up and the positive rhetoric was enough to carry shares higher this week. The weekly share price chart below shows that we are currently at a resistance point of 2106p per share. The trendline could also be in focus in the coming weeks and months.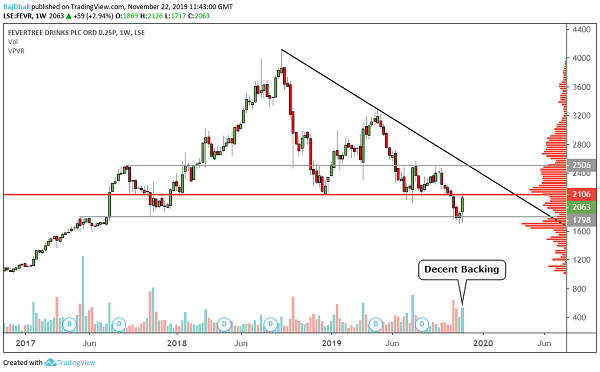 IQE: The Co. reported an operating loss this year following the second cut to revenue expectations in five months. IQE now forecasts revenue this year of £136-142 million, down from £140-160 million previously. The share price might take out the recent wave low of 42.26p to continue trending lower.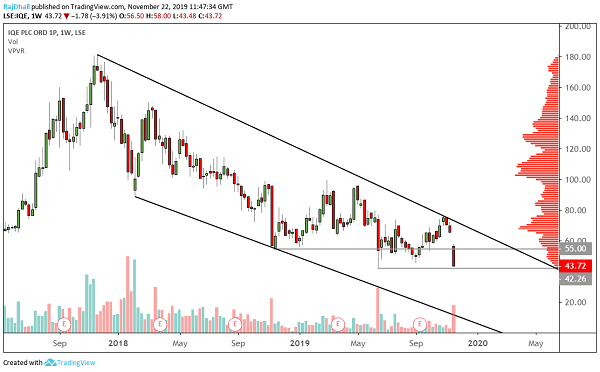 Week Ahead
Monday - German IFO, NZ retail sales,
Interim Result
D4T4 Solutions Plc [D4T4]
Polar Capital Holdings PLC [POLR]
Shearwater Group Plc [SWG]
Sysgroup Plc [SYS]
Thruvision Group Plc [THRU]
AGM / EGM
Andalas Energy & Power PLC [ADL]
OPG Power Ventures PLC [OPG]
Trading Statement
Vivo Energy Plc [VVO]
Tuesday - German GFK consumer climate, US new home sales, US CB consumer confidence, NZ trade balance, API's
Interim Result
AFI Development PLC [AFRB]
Bank Of Cyprus Holdings [BOCH]
Caledonia Investments Plc [CLDN]
Cranswick PLC [CWK]
De La Rue PLC [DLAR]
GB Group PLC [GBG]
IG Design [IGR]
IMImobile PLC [IMO]
LXI Reit Plc [LXI]
Pets At Home Group Plc [PETS]
Pennon Group PLC [PNN]
Revolution Bars Group Plc [RBG]
Severfield [SFR]
Schroder Real Estate IT [SREI]
Final Result
Compass Group PLC [CPG]
Paragon Banking Group PLc [PAG]
Shaftesbury [SHB]
Ten Lifestyle Group Plc [TENG]
Topps Tiles PLC [TPT]
UDG Healthcare PLC [UDG]
AGM / EGM
Bluefield Solar Income Fund Ltd [BSIF]
Scotgold Resources Ltd [SGZ]
Trading Statement
Intertek Group PLC [ITRK]
Wednesday - US core durable goods orders, US GDP, US core PCE, US pending home sales, DoE's
AGM / EGM
ASOS Plc [ASC]
Celtic PLC [CCP]
Genedrive Plc [GDR]
Oilex Ltd [OEX]
Alien Metals Ltd [UFO]
Interim Result
Iomart Group PLC [IOM]
LondonMetric Property [LMP]
Park Group Plc [PARK]
Shearwater Group Plc [SWG]
Final Result
Brewin Dolphin Holdings PLC [BRW]
Britvic PLC [BVIC]
Grainger PLC [GRI]
Marston's PLC [MARS]
On The Beach Group Plc [OTB]
Thursday - Swiss GDP, UK Nationwide HPI, German CPI, Japanese industrial production
Interim Result
Amigo Holdings Plc [AMGO]
Greene King PLC [GNK]
The Ince Group Plc [INCE]
Jadestone Energy Inc [JSE]
Motorpoint Group Plc [MOTR]
Pan African Resources PLC [PAF]
PayPoint PLC [PAY]
AGM / EGM
CAP-XX Ltd [CPX]
DX Group Plc [DX.]
Essensys PLC [ESYS]
Mediclinic International Plc [MDC]
Mosman Oil And Gas Ltd [MSMN]
Seeing Machines Ltd [SEE]
Thor Mining PLC [THR]
Final Result
CYBG Plc [CYBG]
Urban & Civic Plc [UANC]
Virgin Money Uk Plc [VMUK]
Trading Statement
Go-Ahead Group (The) PLC [GOG]
Friday - German unemployment change, EU CPI, Canadian GDP, EU employment data (over the weekend Chinese manufacturing PMI)
AGM / EGM
Grit Real Estate Income Group Limited [GR1T]
Ironridge Resources Limited [IRR]
Macau Property Opportunities Fund Ltd [MPO]
Ncondezi Energy Limited [NCCL]
PME African Infrastructure Opportunities PLC [PMEA]
Have a great weekend!
Kind Regards
Rajan Dhall
The Writer's views are their own, not a representation of London South East's. No advice is inferred or given. If you require financial advice, please seek an Independent Financial Adviser.