Thursday, 11th July 2019 09:17 - by Rajan Dhall
Gold has been on a great run of late following the move lower in the US dollar. Interestingly, this comes despite stocks being at their all-time highs in some countries.
The move also comes amid the backdrop of falling (and in some cases - negative) yields, which make (non-yielding) yellow metal more attractive by the day.
Central banks around the world have been increasing their gold holdings. Official central bank reserve data is showing that June was a busy month for gold purchases and comes after a relatively quiet May, according to the World Gold Council data and year-to-date purchases are up 73% compared to 2018.
Looking at the technicals now and it seemed in the weekly candlestick charts that the last 2 weeks price action rejected the highs with two bearish hammer candles. This week price has come back again and the close will be important to tell us if there is a third rejection. Even if we do get another rejection of the highs this week the long term outlook may not change as we could just get some kind of short term correction.
There are a few strong areas that I am keeping an eye on the major one is the zone between USD 1524-60/oz. After the massive bull run that ended in September 2011 the area between USD 1524-60/oz provided some great support eventually in 2013 prices broke through but nevertheless, it was an important level and could have some significance in the future. On the downside, USD 1289.5/oz is the area in which most contracts exchanged hands on the futures markets. I believed if we get a retracement the area between USD 1289-1300/oz would be the point of support. Obviously, we cannot see into the future regarding risk events, especially with Trump around but based on the technicals and the volume data it seems the momentum is certainly with the bulls.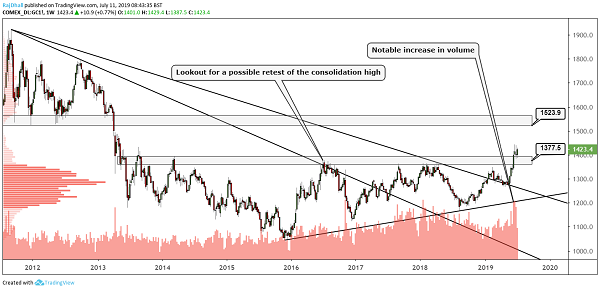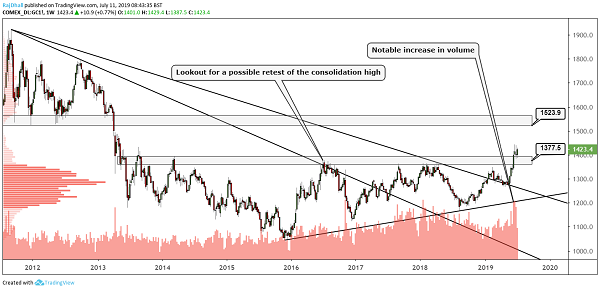 The Writer's views are their own, not a representation of London South East's. No advice is inferred or given. If you require financial advice, please seek an Independent Financial Adviser.