Wednesday, 9th October 2019 10:17 - by Rajan Dhall
It has been a strong sell-off since the last FTSE article I wrote (https://www.lse.co.uk/blogs/expert/ftse-100-technical-analysis-9.html)
The good news is the technicals worked a tread but it was on the sell-side. I still maintain my longer-term view that due to the easing story equities will resume their longer-term uptrend at some point but at the moment the support levels are in focus.
The pound has fallen over the past few days as it seems that Boris cannot seem to push his deal through with his EU counterparts. Today he is meeting Irish PM Varadkar so there could be a few twists but the probability of an extension still remains the best bet with no deal close by. This means that GBP/USD could fall further capping any further losses in the FTSE 100. If an extension is agreed then the pound may find some relief in the short term.
The issue we do have is the outcome of the China-US trade talks. They are set to start today and last night the US threw a curveball by banning some officials from travelling to America who were involved with crimes against Muslimes in rural areas of China. This news sent the S&P crashing and risk sentiment remains fragile leading into today's talks.
Looking at the technicals now the main support is 7020. If this breaks the trendline below will come into play and then 6535.5 support. Now there has been a lower high and lower low formation it can lead to some protection from larger investors. but lower down I am sure there will be some buyers looking for value as the Fed and other central banks have committed to supporting the markets. On the upside 7500 is the level to look for if you are bullish if it breaks it would be fair to assume the uptrend is set to continue.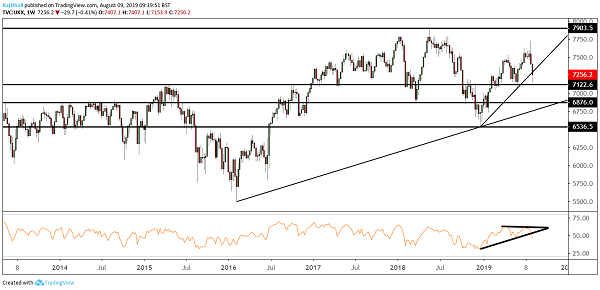 The Writer's views are their own, not a representation of London South East's. No advice is inferred or given. If you require financial advice, please seek an Independent Financial Adviser.