Tuesday, 1st October 2019 10:22 - by Rajan Dhall
The FTSE 100 continues to move higher as GBP/USD struggles to gain any momentum to the upside and Brexit getting more and more complicated.
Since 20th September GBP/USD has fallen from 1.2582 to around 1.2279 today. Also, central banks around the world are loosening monetary policy as the ECB announce their return to QE and RBA cut rates just yesterday.
This theme will continue and the UK's ruling conservative party announced a decent fiscal plan and the Bank of England have stated they will also support markets if we struggle during Brexit.
If by some kind of miracle Boris manages to get a deal done by the end of the month we could see sterling appreciate and the FTSE come off. The base case scenario is an extension or a deal in which both outcomes would be bullish for the pound.
With this in mind, it would mean the FTSE 100 could have a bearish tilt. Although it might in the short term, longer-term the global easing story will take precedent and equities should recover.
On the chart, there are some clues to keep an eye on. At the moment there is a rising wedge pattern forming and a break in either direction could be significant. The key resistance zone of 7726.5 is too high up to mention this week but the price is in a period of higher high higher low waves to there is a chance the bullishness could continue. 7600.00 is the obvious resistance target for bulls but we need to see if there is enough momentum to reach there. Lastly, keep an eye on the US-China trade talks ad the two countries are set to meet on the 10-11th October and I am sure there will be many rumours in the meantime.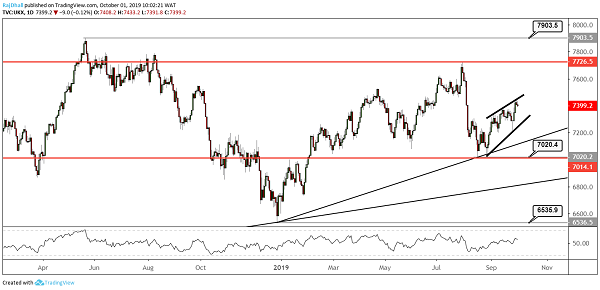 The Writer's views are their own, not a representation of London South East's. No advice is inferred or given. If you require financial advice, please seek an Independent Financial Adviser.