Wednesday, 18th December 2019 14:25 - by Reflect & Prepare
So there you have it, I dont like to say I told you so but well......
UK financial stocks have fallen back after Boris threatens to go for a hard Brexit again. But all is not lost!
There are always opportunities to be had and keep an eye on UK-EU passport banking agreements. If we really think about it HSBC, Barclays and RBS are international banks. This means they would not really be able to function without this deal or some kind of solution. The problem for me is how its getting rushed through. There needs to be more open commentary on the subject and if the Conservatives are open to a softer conclusion, potentially a rise could be on the cards. Having said that the charts are still in firm downtrends. When the price pushes to resistance points its important to watch the volume and acceptance of the breaks. If not short positioning may still be in play. For now, I am watching from the sidelines but with interest.
The weekly chart below (Lloyds) just confirms my love of technical analysis! The resistance level of 73.58p held firm and now we are back retesting the trendline. The support zones in focus now are 60.95p and 47.10p. For the bulls to do anything meaningful now a break of 70p needs to be held and I may be convinced to look for higher levels.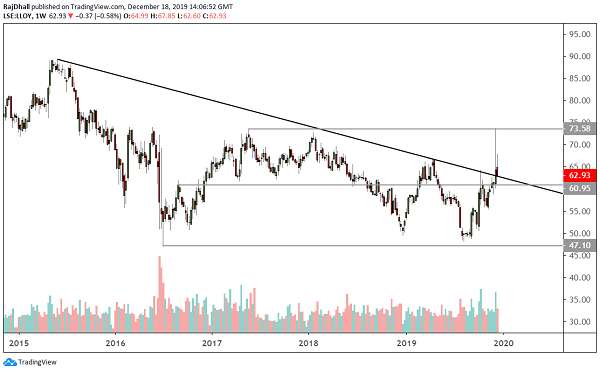 The daily HSBC chart is slightly more complex, we are currently at the trendline resistance and the buy-side volume has picked up but it's not near historical highs on the chart. Beyond that resistance, the 600p psychological zone is next up and the longer-term trendline from the weekly chart which could meet the price around 610p. The price to beat for the bulls on this chart is the wave high of 633.5p.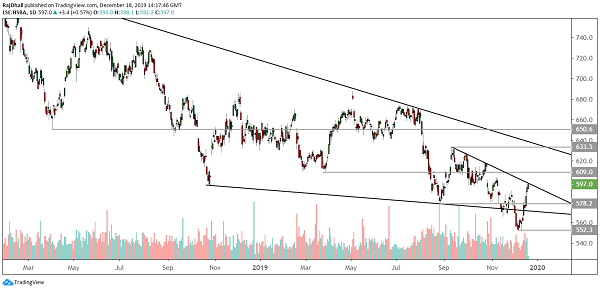 The Writer's views are their own, not a representation of London South East's. No advice is inferred or given. If you require financial advice, please seek an Independent Financial Adviser.