Wednesday, 27th November 2019 09:53 - by Rajan Dhall
Leading into the festive season I thought it would be wise to take a look at the battle of the supermarkets. From a technical perspective, the Sainsbury's and Morrison share charts are coming up to important price levels but I could not do a supermarket piece without mentioning Tesco. The whole sector has been buoyed by the recent strength in sterling but only Tesco and Ocado have outperformed the FTSE 100. With Tesco rising 16.82% higher in comparison while Morrison (-7.51%) and Sainsbury's (-16.04%) lost ground against the benchmark in relative terms. Ocado remains the clear leader due to its technological advances trading around 45% higher year to date.
Tesco - No man's land for now
Although Tesco has been one of the best performers year to date but now is in a neutral zone. The chart has now developed a triangle pattern on the weekly timeframe. This is marked by three lower highs and two higher lows. As we head into the apex of the pattern the volume on the sell side looks to be losing momentum but before we get ahead of ourselves the previous wave high of 247.5p is the level to beat.
Morrison - A few bullish signs could be near.
The weekly chart has not held up as well as Tesco chart above but there are some more promising signs on the technical front. First of all, the price is just flirting with the 200p handle and if it can close above it would be seen as a bullish signal. Second, the price is very close to a trendline break but the main level to watch out for is 209p. If that level breaks with decent volume it could indicate some upside potential.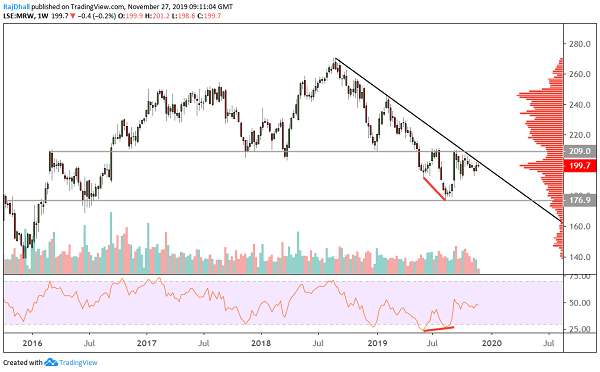 Sainsbury's - The price is holding above the 200p level.
Much like the Morrison chart we are edging close to some important levels. The better news here is that the price has stabilised above the 200p psychological mark and now the next resistance of note is 224p. If the price breaks above there then there is another trendline that could become a sticky point for price. Elsewhere the recent move higher has been backed by decent volume which is encouraging.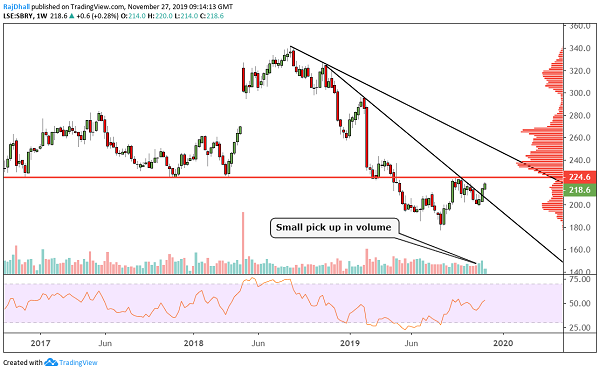 Ocado - Stay away for now
Ocado's fall from grace is made very clear from this weekly chart below. The share price has tumbled in recent times from around 1400p to bounce off the support level at 1073p. Unless 1191.5 breaks I would not really look at this one although it has performed well in relative terms over the year trading 29% higher over the FTSE 100 benchmark and 45% higher overall year to date.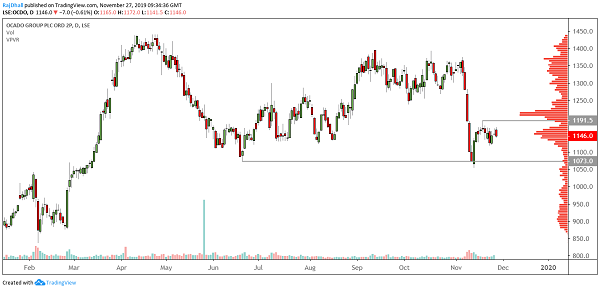 The Writer's views are their own, not a representation of London South East's. No advice is inferred or given. If you require financial advice, please seek an Independent Financial Adviser.