Tuesday, 3rd December 2019 09:44 - by Rajan Dhall
Superdry - Some momentum is gathering here
After a torrid 2018 maybe Superdry is on the mend. Last year the stock fell around 83% from around 2091.8p to a low of 354p. Since then there has been a huge consolidation period between 577.2p and 354p but over the last few months, the price has been making higher highs and higher lows. The level to beat is still 577.2p and that is where the market might get excited but at the moment the share price is showing a good recovery.
The summary of the last trading statement didn't make for good reading:
Revenue decline of 11.3% reflects an expected year of reset, and the need to address a number of legacy issues across the business.
Retail sales decline moderated through first half, with Q2 store revenue down 9.4% versus Q1 down 13.9% as key initiatives are implemented.
Focus on full price sales and reducing promotional activity impacting revenue but driving a +3.2%pt increase in store gross margin. Full price sales mix (2) averaging 70% H120 versus 52% H119.
Decisive action taken and positive indicators of future performance underpin full-year expectations.
Comments from CEO:
Julian Dunkerton, Chief Executive Officer, said:
"We are making good progress with the start to our turnaround plan for Superdry, returning the business to its design led roots. We have always said it will take time, but we have a strong team which is working incredibly hard to deliver this plan. I'm genuinely excited by new injection product which has started to land in stores for this peak and even more excited about the new ranges signed off for next year.
We are moving the business away from a reliance on constant promotions, and while this focus on full price sales has affected revenue in the first half, this is being partially offset by a better gross margin performance. There is good momentum in the business, and I remain confident of returning Superdry to sustainable long-term growth."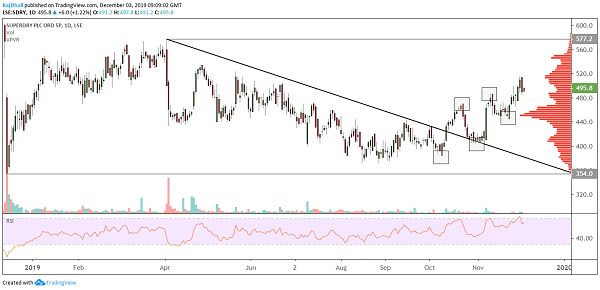 Over the last 3 months, Superdry has outperformed its peers in the market too. Ted Baker could be a special case so maybe leave them out of this one but against the rest, Superdry has pulled away. Within this correlation chart, I stuck to middle of the road fashion houses that could compare with Superdry. Ted Baker, H&M, Zara and Burberry are all pretty close in terms of demographic and price point. The likes of JD Sports and Boohoo are soo far ahead it would not have been a fair comparison and ABF (who own Primark) are at more of the bargain end of the market. Either way, if the recovery plan stays in line with expectations and the Christmas period goes well maybe we will see a breakout of the consolidation period.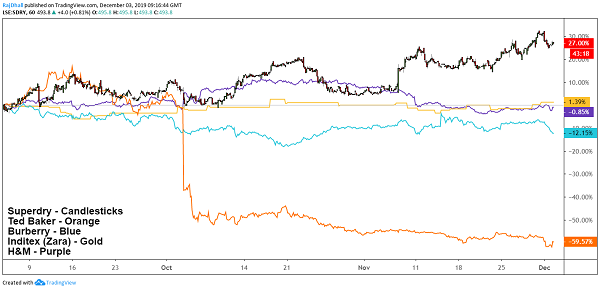 The Writer's views are their own, not a representation of London South East's. No advice is inferred or given. If you require financial advice, please seek an Independent Financial Adviser.