Thursday, 8th August 2019 07:19 - by Rajan Dhall
As central banks around the world cut interest rates and start thinking about adding more stimulus gold looks like its the flavour of the month.
The spot contract broke through USD 1500/oz today as US equities continue to struggle. The Federal Reserve disappointed Donald Trump and the equities markets after only cutting 25bps at the last meeting and they also announced the balance sheet run-off will be ending 2 months ahead of schedule.
What does all this mean? It means the US markets and therefore the global equities markets feel less supported. QE helps companies as it adds liquidity when conditions are tough through cheap lending. In theory, this money should filter through and help the economy grow and wages rise. But it seems like the last round of QE post the 2009 financial crisis has run its course and the Fed have not decided to renew it this time round. Having said that Jerome Powell said the Fed will watch incoming data and are willing to act if needed.
Gold has always been seen as the best safe-haven asset and it seems that traders and investors are adjusting their portfolios to reflect the precarious geopolitical environment. America and China are still at odds with each other over trade, Iran are not backing down when it comes to nuclear weapons and Brexit is still hanging over the financial markets like a dark cloud.
Below is a weekly chart of the spot gold contract. You can see that the price has moved quite aggressively to the upside. The next resistance level is a pretty important one and I wanted to highlight the significance. In 2011-12 near the peak of the gold price rise the retracement stopped 4 times right at the USD 1560/oz support zone and it wasn't once used as resistance since. This could be that opportunity but all of those aforementioned risks are not going to disappear overnight. I just believe this could be an inflexion point or an area for a move back to the mean in the short term. Keep an eye out for the level in the coming weeks and as always good luck!.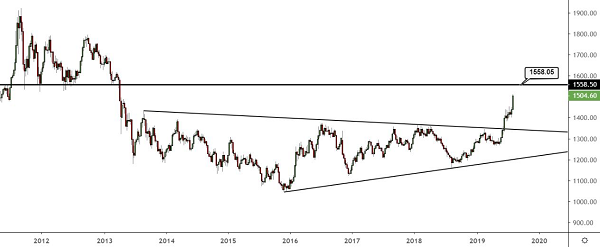 The Writer's views are their own, not a representation of London South East's. No advice is inferred or given. If you require financial advice, please seek an Independent Financial Adviser.