Friday, 2nd August 2019 12:23 - by Rajan Dhall
This is a technical update for the FTSE 100: (previous post https://www.lse.co.uk/blogs/expert/what-could-stop-the-ftse-100.html)
Since the last FTSE 100 briefing, the FOMC decided to cut interest rates by 25bps in the US. The market had already priced this in a while back and were (support) looking for more back up from the Fed. Some analysts were expecting a 50bps cut and even some monetary stimulus. Instead, the Fed announced they were set to bring forward the balance sheet runoff by two months and it will now end on the 31st August. Trump took to Twitter to announce his displeasure at the decision as he is very concerned about the USD strength at present.
Elsewhere, tariff man has been at it again and enacted another 10% of tariffs on 300bln worth of Chinese goods. This led to another risk of event pushing global equities down further compounding the woes of equities investors who are long the indices.
Looking at the chart below the technicals played out perfectly and price managed to halt at the downward sloping trendline originating in May last year. I think we are set to have a period of consolidation with the FTSE contained between 7222 and 7777 until we get more information about the trade talks and Brexit. The pound, however, is still looking week although overextended but FTSE traders are focusing on the trade war narrative at present. For me, a technical trend change to the downside will only be confirmed after a lower high and lower low wave is created and I will provide another update if that becomes the case
After:
Before: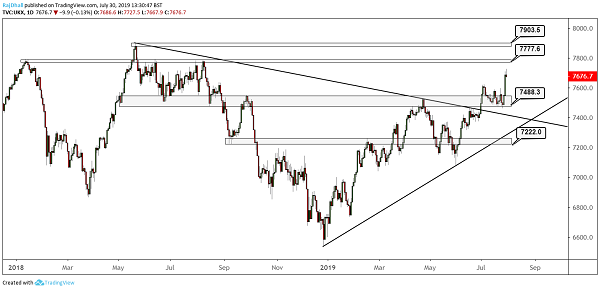 The Writer's views are their own, not a representation of London South East's. No advice is inferred or given. If you require financial advice, please seek an Independent Financial Adviser.