Tuesday, 13th August 2019 13:53 - by Rajan Dhall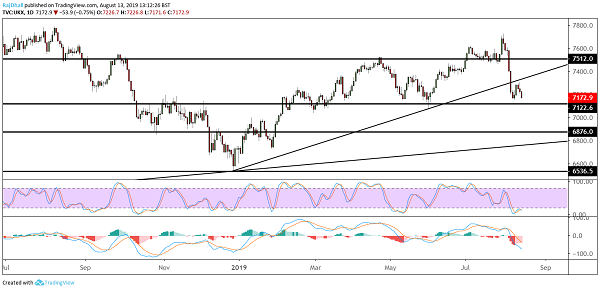 The FTSE 100 broke lower once again this morning as geopolitical woes and unrest in Hong Kong plays in investors minds. On the daily chart, the trendline that originated just before 2019 has been broken and in a textbook technical move, the restest was rejected just 3 sessions ago.
Just this week violent protests in Hong Kong stepped up a notch as the protestors took over the national airport and all flights had to be grounded. The unrest looks set to continue as the Chinese government sends troops to mobilise at nearby Shenzhen. It is unclear how the protest will move forward as it seems like the police have lost control of the area and any Chinese heavy-handed action could be condemned by the wider international community.
Elsewhere, in Argentina, the local currency the Argentinian Pasos (ARS) took a nosedive and fell a whopping 32% against the USD. This all came about after Argentine President Mauricio Macri suffered a shock defeat in primary elections on Sunday. The local stock index closed 31% lower compounding woes.
Gold has been the biggest beneficiary of all this unrest as the smashed through the USD 1500/oz area once again and hit a daily high of USD 1535.03/oz. Getting back to the FTSE it doesn't look like the momentum will slow down just yet. The MACD indicator is moving into deeper territory and the stochastic moving averages look set to hug the oversold area. The next strong support level hangs around 7122 but that is still 0.81% away from the level we are at today.
Kind Regards
Rajan Dhall
The Writer's views are their own, not a representation of London South East's. No advice is inferred or given. If you require financial advice, please seek an Independent Financial Adviser.