Tuesday, 26th November 2019 14:58 - by Rajan Dhall
With the election around the corner, both leading governments have been making pledges to build homes at record levels.
With this in mind and the fact that the Tories are in the lead in the polls, most of the UK homebuilders have been breaking out of decent levels. Below is a correlation chart of all the homebuilders and it shows that Barrat Developments has outperformed rising 44% year to date. Although Persimmon underperforms the sector, a 20% rise is not too shabby and in the charts below, it is now in focus.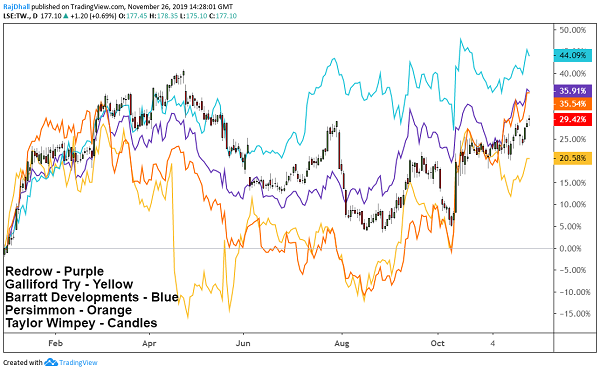 IUKP (UK property ETF) vs FTSE 100
The FTSE 100 is marked in purple and the UK property ETF is a candlestick chart. The ETF has risen in value by 19.16% while the FTSE is 9.96% higher. year to date. Looking at the chart, the wave high of the ETF is also in focus so we should keep an eye on a break to highs not seen since June 2016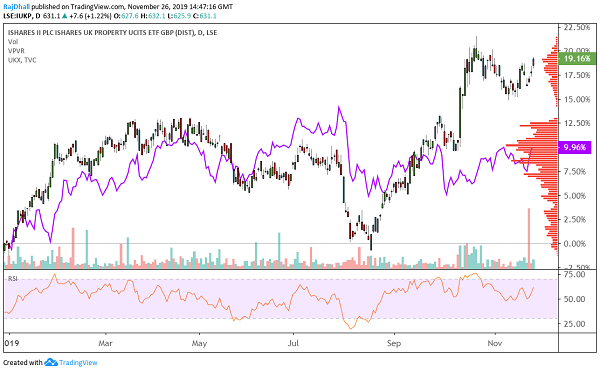 Taylor Wimpey and Persimmon Share Charts
Taylor Wimpey has broken its previous wave high at 175.70p recently and now the trendline is in focus.
The good thing about the move is that it has been backed with good volume which is noted at the bottom of the chart.
Later on, if we see a break higher the 200.00p psychological price level may be a resistance to keep an eye on.
Persimmon has also made a decent breakout. Now the bulls will be looking to see if the price can hold above 2500p.
The target on the upside is the previous high of 2913p and again this move has been backed by good volume.
Looking at the RSI indicator now there has also been a spike in bullish momentum and the indicator is holding in a positive zone clearly above the 50 mid point.
The Writer's views are their own, not a representation of London South East's. No advice is inferred or given. If you require financial advice, please seek an Independent Financial Adviser.