Wednesday, 25th September 2019 13:59 - by Rajan Dhall
Its been a while since my last FTSE 100 update. Recently due to the ambiguous state of UK politics sterling has risen. FX traders (GBP bulls) are pleased that UK PM Johnson cannot push through a hard Brexit and an extension seems like the most likely scenario.
Over in the US, sentiment has taken has massive hit after the Democrats announced plans to impeach US President Trump. There may be one massive hurdle as the Republicans have to jump on board with the idea and to talk Trump's party into going against him may prove tough.
Below is the weekly FTSE 100 chart and it seems like a lower high has been created 7380.3 and there would be a big bearish confirmation if 7020.3 was broken.
Having said all of this, it is hard to be convinced the uptrend is over and on the top side 7600 is the level to watch for trend continuation. The RSI trend has also broken which indicates we may be in for more selling pressure.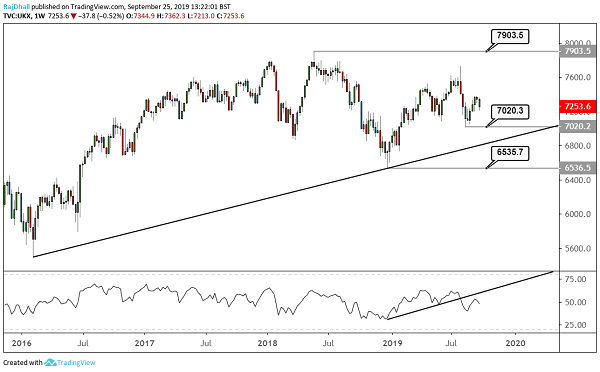 Below is the zoomed-in daily chart and the trend here looks like it can change to the downside easily. There are two key levels of support I will be keeping an eye on. The first is the trendline under price near the 7200.0 level as if it breaks it would make a test of the next important 7020.4 level more likely.
In this chart, the lower high formation is much clearer. At the beginning of this chart on the left and side, you can see how devastating a trend change can be as the price fell from 7903.5 to 6535.9. If Sterling pushed higher as Brexit get more complicated and the Republicans back the impeachment bid, there could be a long way down. The probability of both events transpiring is low. The Republicans are more likely to back Trump but in the UK anything is possible right now so keep an open mind.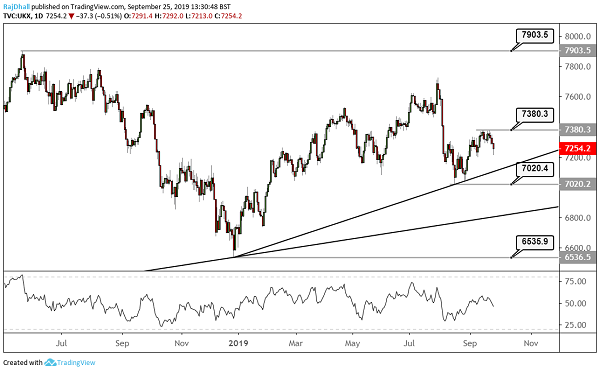 The Writer's views are their own, not a representation of London South East's. No advice is inferred or given. If you require financial advice, please seek an Independent Financial Adviser.