Friday, 29th November 2019 15:06 - by Reflect & Prepare
Macro
It was a short week in the US, with Thanksgiving adding a buzz to the short working week for money, though the markets were not short of drama. Yes, once again the US-China trade spat developed yet another twist in the tail as the US president signed the bill which effectively offered support to the protesters in Hong Kong. The Hong Kong Bill gives the US the mandate to review the independence of the administrative region, to which it offers a special relationship which it now considers to be compromised by the movement of China. Naturally, China has taken offence, branding the US a 'bully' and accusing the superpower of interfering in its domestic matters which has in fairness attracted the attention of the world over. Nevertheless, this puts further strains on the negotiations currently in progress, attempting to reach a Phase One deal on which to build a stronger trading relationship going forward.
The financial markets though seem unperturbed by the latest events, though not without cause (just cause is perhaps going a little too far). As the Federal Reserve has effectively admitted, it will act to mitigate any adverse impact from trade tensions through its policy measures, and equity markets have assumed that this means further policy accommodation in the event of any further economic downturn. However, recent Fed speak suggests we are in for a pause in the near term as Fed Chair Powell and Co assess the latest incoming data.
The general election is getting closer, and come the 12th of December, the UK goes to the polls once again to decide on the government they wish to see not only deliver (or abandon) Brexit but also address some of the domestic issues which have not so much fallen by the wayside, but more so shelved as efforts have been focused on managing the process of leaving the EU in an orderly fashion - albeit with yet another delay.
Boris Johnson is naturally insisting that he will deliver Brexit by the end of January as his primary ticket in the election campaign, so much so, that he has come under a little criticism for manifesto which is seen as light on detailed policy relating to domestic matters beyond the issue of Brexit. Despite this, he remains in the lead in the polls over Labour, with the MRP survey conducted for The Times predicting a majority win of some 68 seats or so. The poll has been given some gravitas due to its accurate prediction of a hung parliament in 2017, so political pundits are giving the opposition much chance of delivering a surprise, in any form it may come.
Jeremy Corbyn has clearly thrown caution to the wind, delivering a manifesto which is an eye-opener, to say the least. Economists have baulked at the spending this will require, and while some call his plans radical, others deem it wildly unrealistic and unworkable.
Movers and Losers
ITV (ITV): The share price has broken out and is now aiming for the 150p area. The mean value area is represented by the volume profile indicator on the chart. This holds at around the 170p area and these levels often act as a magnet for price. Their results were given to the market on the 12th November and it seems to have given the share price a good boost.
Whitbread (WTB): The companies shares have pushed higher to hit the 4731p resistance point. The previous wave high was taken out with some velocity and on the daily chart, you can see the volume picked up and there have been some reports of newly appointed non-executive director Horst Baier buying 1,600 ordinary shares.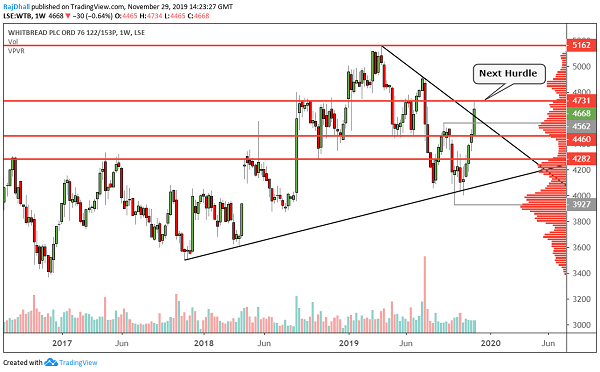 Direct Line (DLG): This chart I have found interesting as it has just printed above the 3 month high. Beyond that, the volume has been very good and the 300p psychological level has been broken to the upside. The Q3 trading update encouraged investors to push the price higher but the level in red marked (332.5p) on the chart is a significant resistance zone.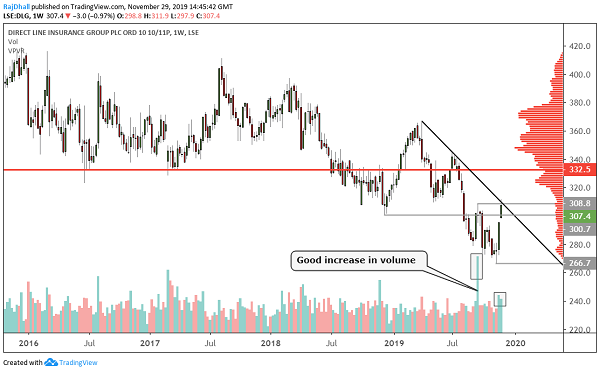 Next Week
Monday - Chinese, German, Australian, UK and US manufacturing data
Interim Result
Fusion Antibodies PLC [FAB]
W Resources PLC [WRES]
Yourgene Health Plc [YGEN]
AGM / EGM
UK Mortgages Ltd [UKML]
Tuesday - UK BRC retail sales monitor, RBA rate decision, UK construction PMI, weekly API's
Interim Result
Consort Medical PLC [CSRT]
Solid State PLC [SSP]
Tekmar Group Plc [TGP]
Trading Statement
Ferguson Plc [FERG]
Final Result
Oxford Metrics PLC [OMG]
AGM / EGM
Greatland Gold PLC [GGP]
Wednesday - Australian GDP, Chinese, US and UK services PMI, ADP NFP, BoC rate decision and DoE's
Final Result
Impax Asset Management Plc [IPX]
IXICO plc [IXI]
Stock Spirits Group [STCK]
Interim Result
Loungers PLC [LGRS]
SDCL Energy Efficiency Income Trust Plc [SEIT]
AGM / EGM
Ceres Power Holdings PLC [CWR]
Thursday - Australian retail sailes, Indian rate decision, OPEC meeting, EU GDP, Cadian Ivey PMI
AGM / EGM
BATM Advanced Communications Ltd [BVC]
Gleeson (M J) Group PLC [GLE]
Ruffer Investment Company Limited [RICA]
Sabien Technology Group PLC [SNT]
VinaCapital Vietnam Opp. Fund Ltd [VOF]
Final Result
Daily Mail and General Trust PLC [DMGT]
Victrex PLC [VCT]
Trading Statement
IG Group Holdings PLC [IGG]
Joules Group Plc [JOUL]
Interim Result
Smith (DS) PLC [SMDS]
Friday - German Industrial production, US and Canadian jobs data, US Baker Hughes rig count
AGM / EGM
Gfinity Plc [GFIN]
James Halstead PLC [JHD]
Interim Result
Berkeley Group Holdings (The) PLC [BKG]
Have a great weekend!
Kind Regards
Rajan Dhall
The Writer's views are their own, not a representation of London South East's. No advice is inferred or given. If you require financial advice, please seek an Independent Financial Adviser.