Thursday, 21st November 2019 10:41 - by Rajan Dhall
The Centrica share price has pushed to its highest level since 30th July after a positive trading statement.
Focusing on the technicals now, there are a couple of key points on the daily chart below that need to be highlighted.
There is a big spike in volume before the announcement. On 18th November 46.791m shares traded and the daily candle was very modest. This is highlighted on the chart below with the arrow. Often this is due to position into key event but they can only be highlighted by watching relative volume levels carefully.
Elsewhere, the wedge formation has broken to the upside on decent volume. One thing we look for as technical analysts is a pattern/resistance break on decent volume which has been confirmed here. Beyond this, there is often a retracement which can lead to a retest of the pattern high but this is can depend on the velocity of the move.
The next resistance on the chart is at 85.06p and this is where price bounced in late June. Often when price gaps lower there is a tendency to fill the gap and in this case, there are two gap levels: one at 90.84p and another higher up at 105.00.
On the support side, the top of the consolidation pattern is at 77.60p and the previous wave low stand at 75.58p. The base of the pattern is also important as 63.98p as it was the lowest level seen since 1998.
Bear in mind Centrica is in a very heavy downtrend the resistance levels mentioned above could be used as selling points. This current turnaround in the share price can always be short term but when a three-month price breakout has been noted it is fair to flag it up.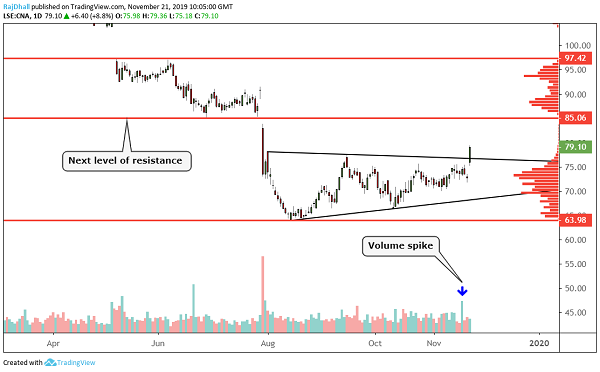 The Writer's views are their own, not a representation of London South East's. No advice is inferred or given. If you require financial advice, please seek an Independent Financial Adviser.