Wednesday, 28th April 2021 17:24 - by David Harbage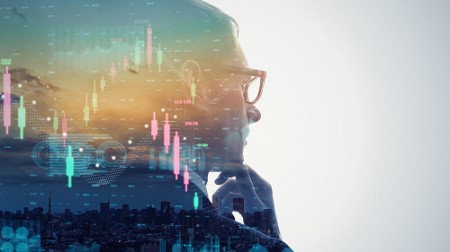 As one gets older, appetite for risk tends to ease for most of us – the writer included. When it comes to long-term savings, this often leads to investors choosing collective or pooled investments and delegating the individual security or stock selection to a professional fund manager or using index tracking vehicles, like Exchange Traded Funds (ETFs) to capture particular asset types.
While the search for exciting, often speculative company shares shows no signs of waning – as evidenced by share chat activity on bulletin boards (such as LSE's) or social websites like Reddit's WallStreetBets – most long-term investors do not have the time or expertise to rigorously investigate the necessary number of stocks to construct a diversified portfolio. They are also mindful that the best opportunities to invest will often only be available to institutions who can access equity upon launch or prior to that in their private, unlisted state.
Beyond reading regular updates, drilling down into the underlying constituents of an actively managed (as opposed to a passive tracker of a stock exchange index) fund's portfolio can provide an interesting insight into a fund manager's perspective on the market in which he or she operates and their consideration process in making individual selections.
As an example, Premier Miton (LSE:PMI) was a significant early investor in tinyBuild (LSE:TBLD) which was listed on the London stock exchange on 9 March, after placing 45% of their equity at a price of 169p with institutional investors. The shares have risen by another £1 since then and momentum in this video games publisher and is unlikely to be hindered by commentary today in the Telegraph's Questor column. We may have to wait a few more weeks to discover into which of Premier Miton's funds their allocation has been made (and therefore potentially accrue benefit).
It is unlikely, but not impossible, that a portion may have found its way into Miton UK MicroCap trust (LSE:MINI) a £100m closed-ended fund or the group's £400m Diverse Income trust (LSE:DIVI), both of which are managed by Gervais Williams and Martin Turner. As one might intuitively expect, the first mentioned trust focuses on smaller companies and measures its performance against the FTSE AIM All Share index. Yesterday one of its top 20 positions Gaming Realms (LSE:GMR) another technology-focused developer (of mobile focused gaming content) announced its annual results – which featured a growing presence in the US and the prospect of becoming profitable in the current year. Shares in London based GMR have risen five-fold over the past year and, while there may yet be further appreciation in store, it illustrates the potential benefit that can accrue to the early, knowledgeable investor.

Both MINI and DIVI possess highly diversified portfolios – with a breakdown revealing that top 20 holdings typically account for 40% and 30% of their respective total worth. Incidentally while Argo Blockchain (LSE:ARB), mentioned in last week's blog, is one of the larger constituents, the biggest exposure in Miton UK MicroCap trust is Jubilee Metals (LSE:JLP) which accounts for 6.1% of the fund. JLP is a metal recovery and processing business with a broad portfolio of projects across South Africa and Zambia in platinum, chrome, lead, zinc, vanadium, copper and cobalt. A beneficiary of strong platinum product (includes palladium and rhodium) prices last year, this profitable enterprise has a healthy balance sheet and the recent acquisition of 300m tonnes of copper/cobalt tailings appears promising.
- Jubilee Metals - Here's why our guest blogger is investing
While in a very different industry, facing very different prospects, valuation metrics (JLP is priced on a lowly price-to-earnings ratio of 5 times forecast earnings for the year to June 2022) and risks as compared to GMR, the shares of JLP have also risen five-fold over the past year. Other top 20 constituents of Miton UK MicroCap trust include Jadestone Energy (LSE:JSE), which has merited mention in the author's previous blogs, but which this week announced an internal reorganisation featuring cessation of trading in Jadestone Canada, and another newcomer to the market in the form of online retailer Virgin Wines (LSE:VINO) which began trading on the Alternative Investment Market on 2 March 2021.
For your interest, the largest holding in Gervais Williams and Martin Turner's other fund, Diverse Income trust, is the online trading (spread betting & CFD focused) provider CMC Markets (LSE:CMCX) which accounts for 3.5% of DIVI's total portfolio worth. Due to announce full year results for the year to 31 March on 10 June, its trading update confirmed that this technology platform business had been performing strongly and was likely to achieve revenue ahead of consensus City expectations. Volatile market conditions, driven by uncertainties surrounding Covid, Brexit and US & UK elections over the past year, has attracted more traders and trading activity which in turn has driven higher income for the FTSE 250 constituent.
CMCX stock has risen from 210p to 490p over the past year and while earnings growth in the £1.4bn market capitalised business is likely to flatten in the current year, the business enjoys strong institutional support from both sell-side brokers (including RBC Capital Markets, Shore Capital and Canaccord Genuity) and institutional investors. As regards the latter, besides Premier Miton Investors' near 5% stake (worth £69m, the fourth largest investor), CEO and founder Peter Cruddas' family has 'skin in the game' via 60% ownership while Aberforth Partners and JO Hambro Capital account for another 5% each. Your truly was impressed when meeting the CFO in November last year.
DIVI has a truly multi-cap or company size portfolio, with almost a third of its worth being AIM listed companies (including third largest portfolio position K3 Capital Group (LSE:K3C), a professional services company which recently announced "trading ahead of expectations"). By value, a quarter of the portfolio comes from the 'blue chip' FTSE 100 index which include the trust's top 10 holdings in insurer Admiral (LSE:ADM), mining giant Rio Tinto (LSE:RIO) which announced pleasing Q1 production data last week and asset manager Legal & General (LSE:LGEN) a beneficiary of higher stock exchange asset values, but seemingly undervalued on a sub9 times earnings valuation for forecast profits this year). A further fifth of DIVI's worth is derived from the mid-cap FTSE250 index segment – which includes its 6th largest position Diversified Gas & Oil (DGOC) a consolidator of gas wells in the US' Appalachian Basin that distributes a high level of income equating to a 10% dividend yield (mentioned in previous blogs). Finally, an eighth of the portfolio resides in the premium listed FTSE Small Cap index (including Mozambique titanium minerals & zircon producer Kenmare Resources (LSE:KMR)).
The Writer's views are their own, not a representation of London South East's. No advice is inferred or given. If you require financial advice, please seek an Independent Financial Adviser.