Wednesday, 28th October 2020 07:25 - by Stefania Barbaglio
Financial markets have faced huge uncertainty throughout 2020. The onslaught of the pandemic and ensuing economic crisis has dealt a huge blow, while attempts to remedy the situation have seen governments, in tandem with central banks, resort to fiscal stimuluses. Inflation is on the rise, economic activities slowing, unemployment reaching new highs, people are feeling on edge as central banks' talk of potential negative interest rates.
It's a stressful, volatile economic backdrop, investors are anxious, as they evaluate opportunities to preserve or increase their wealth. But what is safe right now?
Gold, one of the most traditional investments, maintained its status of all-time favourite safe-haven asset as the pandemic spread. The gold price hit a record high this summer: $2,073 an ounce in August. As of mid-October, gold has risen 25 percent this year, prompted by unprecedented global levels of stimulus and market uncertainty.
Historically, amid economic and financial turmoil, investments in safe-haven assets and equities are always in demand. According to the FT, investors poured $60bn into gold-backed ETFs this year, representing 50 percent more than in 2009 during the financial crisis. Gold ETFs now represent 35 percent of global gold demand compared with just 8 percent a decade ago.
Most fund managers believe that this is the time for investors to increase exposure to gold, whether through bullion or equities, in order to safeguard investment in times of slower economic growth and reduced returns.
Gold is still and always will be the investors' safe-haven favourite. As the natural resources sector transforms itself to meet demands for more sustainable solutions, mining companies could yield opportunities for returns in the medium and long term. Gold miners are particularly worthy of attention, bullish sentiment will continue in the gold market as the economy struggles to recover and mining companies' share prices reflect the movement of gold itself. Companies in a healthy financial situation with permits in place can generate high returns for shareholders. Gold producers and developers are also favoured among explorers.
Amanda van Dyke, gold fund manager and Managing Director at ARCH Emerging Markets Partners suggests that investors look into gold companies to increase returns: "You must have a diversified portfolio of gold that includes a combination of large and small cap companies to ensure maximum returns."
In the junior space, one of the most promising 'under the radar' gold mine developers, are Condor Gold (LON: CNR; TSX: COG), which has significant 'near future' upside.
Listed on the London and Canadian Stock Market (LON: CNR; TSX: COG), Condor are now sprinting to develop and bring into production their fully owned La India Gold Project in Nicaragua. All permits and licences have been secured.
The Company now boasts a fully permitted project to construct and operate a processing plant with a capacity of up to 2,800 tonnes of gold ore per day. Securing permits is crucial and highly valuable for every mining company, a fact which is not always appreciated by the market.
On recent news, Condor Gold is moving toward mine construction at La India with the commencement of Ground Investigation Drilling of 20 geotechnical drill holes and 58 test pits on the Tailings Storage Facility (TSF), Water Retention Reservoir and Processing Plant site. The geotechnical engineering analysis results and recommendations will support a TSF and retention dam Final Design and contribute towards an advanced processing plant layout design. Condor Chairman and CEO, Mark Child, explains that the Board has decided to "accelerate the Project, by-passing a Feasibility level design, which is typically required for bank lending and go directly to a TSF Final level of design, which will, subject to funding, allow the fast tracking of the Project to future operational status".
Production at La India is targeted at 120,000 oz gold per annum from open-pit material for 7 years, with an additional underground resource of 1.2 million oz of gold. Gold production is expected to commence in 24 months. Furthermore, the company has a strong economic and financial case, after raising $10M cash in June 2020.
Condor has completed several economic studies that focus on the core area of the project. These studies demonstrate robust economics with internal rates of return above 30 percent, even at a low-gold price of US$1,250/oz. The studies also showed that two adjacent satellite pits, America and Mestiza, along La India, widen prospects for mining in a potential 5M oz gold bonanza. PFS base case is 80,000 oz gold per annum over 7.5 years from a single open pit.
Nicaragua is on track to deliver a gold mining boom, according to business reports, as the country hosts several mining projects set to yield more than 300,000oz/y in the coming years.
The La India project is located in a strategic area with good infrastructure. The Pan-American highway is only 15 km from the site, providing easy transportation access. The Condor Gold operation is supported by the Nicaraguan government who've now realised that mining activities and natural resources represent a key industry for their national & local economies.
Condor also support the local community in Nicaragua through social responsibility programmes, providing youth training and workshops that will benefit 500 local people. Having allocated $20,000 per month to social projects in the community. The social team employs 40 people. The company has agreed on a $1 million investment in existing villages and wider communities before first gold pour.
In a commitment to mitigating environmental impact, Condor will also reduce mercury contamination from rastras.
Although the company has been overlooked by market watchers for a few years, recent exciting developments are bringing them into the spotlight, including the purchase of 92% of land surface rights within the permitted La India open pit mine site infrastructure.
The Board is in the process of updating reports with a more complete account of the La India project, reflecting an increase in total permitted open pit mineral resources awarded in May. Those studies will enable the Board to choose between various production options, including financing with minimal shareholder dilution and phasing the extraction of gold from the three pits.
The release of updated figures, coupled with bullish sentiment in the gold market, is likely to drive the share price up. La India is shaping up to be a "high quality project with a high rate of return," says investment analyst John Cornford. "Condor Gold is still rating far behind that of similar gold miners in North America, says Cornford, but the market is starting to recognise its value".
John Conford's in-depth analysis on Condor Gold's upside and current valuation can be found on the Master Investor website .
CONDOR IS CURRENTLY TRADING AT A DISCOUNT TO ITS EMERGING DEVELOPER PEERS ON AN EV/RESOURCE AND EV/RESERVE BASIS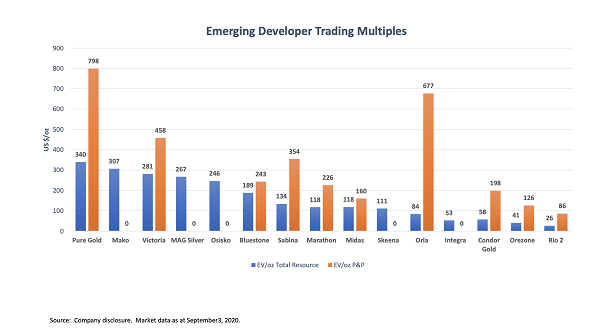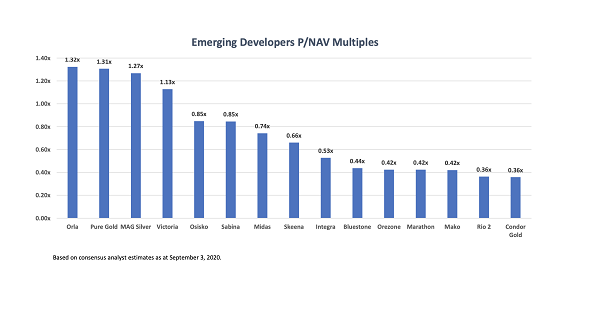 When asked about Condor's short-term objectives and priorities, CEO Mark Child listed the below:
Acquire remaining 8% of land surface rights - top priority by year end
Geotechnical drilling on TSF, water retention dams
In-fill drilling on high grade Mestiza open pit
Place deposit on a processing plant
Advanced engineering studies
Commence site preparation by year end
If Condor is successful in placing a deposit on a processing plant before the year end it could prove a game changer as the processing plant will be sized, allowing definitive engineering studies to commence and capex for the plant to be finalised. It will also provide a timeline for production, first gold pour and cashflow.
Investing in gold-related assets has become popular among high-profile investors. Warren Buffet's interest in Barrick Gold made headlines all over the world, while well-known British investor Jim Mellon holds a 15.9 percent interest (directly and indirectly) in Condor Gold; he is also a non-Executive Director of the Company.
The strength of the gold price is yielding an opportunity for companies like Condor Gold and, considering that economic recovery is not expected to happen soon, the case for gold and gold equities remains strong.
Keep researching and choose your investment carefully.
The Writer's views are their own, not a representation of London South East's. No advice is inferred or given. If you require financial advice, please seek an Independent Financial Adviser.